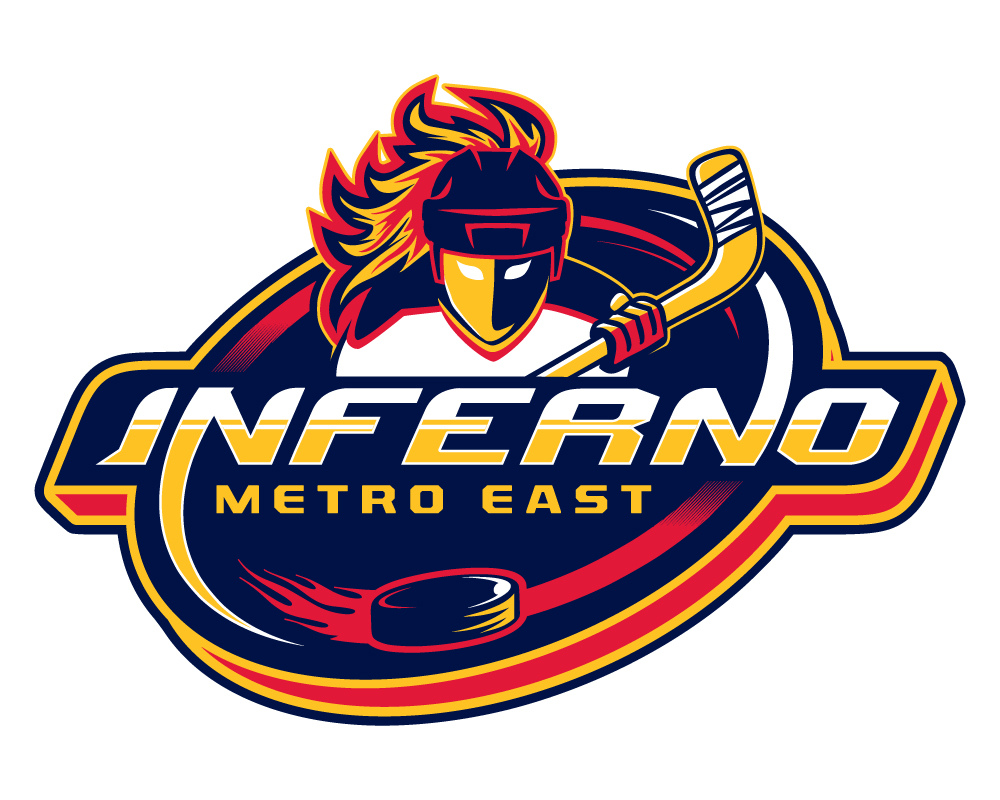 Metro East Inferno FHA are happy to announce we are working EXCLUSIVELY with Cleve's Source for Sports - Team Sales - Burnside for all of our apparel needs.
Any and ALL alternative items not listed must be approved by MEIFHA, in writing. MEIFHA has ownership of our new logo. Teams & individuals will be sanctioned for unapproved purchases and any made through other vendors. We appreciate your cooperation.
FLYER FOR ALL AVAILABLE MEIFHA PRODUCTS for 2021 - 2022 ...link coming soon so you can see everything on offer!
and/ or
Go to the retail store (once everythng is in place for the season - stay tuned!), try things on, take note of the items, styles and sizes you want. You may place your order right then and there using your smartphone or wait until you get home, but you purchase directly through our online store. Limited items will also be available for purchase in-store.
ONLINE STORE LINK ...coming soon
KOBE brand poly-mesh game socks, Name Bars & Sponsor bars can be ordered VERY SOON through the online store, opening soon after close of registration. Place your order early to get ahead of the rush! You can always add another purchase later when all of the clothing is offered.
Items coming soon:
KOBE polymesh game socks (home & away), Name Bars & Sponsor Bars.
Our traditional Bauer Tracksuits, Winter Jackets, Bauer Ball Caps, Toques with Pompoms & Toques without pompoms. All of these items have the option to add embroidered names. Joggers can optionally add a silk-screened logo, too. Please note: Logos may not be available for Bauer tracksuit pants, as we investigate how the new logo suits small embroidery.
We are also exploring patches to be used for updating winter coats and track jackets purchased last season.
ATC Performance T's (gray, navy, white) and Long Sleeve shirts in (gray or navy). Choose to add your player's name across the shoulders, if you wish.
NEW PRODUCTS COMING THIS SEASON:
Champion hoodies, crew neck sweatshirts & joggers (navy or charcoal heather)
Under Armour Backpacks (navy/gray)
Gatorade-style water bottles (white with logo)
Hockey Bags (style TBA)
Crew socks (pending)
Rink Blankets (pending)
Coaching/ Team items such as practice jerseys, pant shells, clipboards, whiteboards, pucks & pylons.
Traditional logo options are available on all hoodies, crew neck & T's or choose these:
Sizing sets and a limited number of stock items for purchase, will be available IN STORE.
Stay tuned for when everything is set-up!


Roselene Boutilier
Team Sales Manager
Phone: 902-468-3838 Ext: 226
Email: teamsales@cleves.ca
60 AKERLEY BLVD,
DARTMOUTH,NS
************************************************************************
MEIFHA will be supplying car decals and team helmet stickers to our members this season, purchased through Atlantic Digital, as part of our new logo rollout Your team manager will have these to give to you after they pick-up their new team jerseys.

Logo for both sides and numbers for front & back
Picture with our new logo hopefully coming soon!
************************************************************************
Team Banners and dressing room signage should be purchased through:
Sales Manager
sbenjamin@atlanticdigital.ca.
902-414-8608
77 Burbridge Ave,
Dartmouth, NS Have your own design or personlization you are looking to use for your team? All designs/ MEIFHA Logo purchase requests outside of the above listed items must be submitted to MEIFHA for Committee Approval.
Don't see something you wish were here? Contact Kristina Blackmore at meifha.equipment@gmail.com
Requests for items outside of the outlined apparel program are subject to Committee approval
Please refer to By-Law 8.2.9 regarding permission to use the MEIFHA Name and L