Coach/Manager - Tournaments
Information below is from 2019, unless otherwise stated!
Home Tournaments
Late November - Early December
Away Tournaments
Chicks with Sticks Tournament - Yarmouth NS, October 25-27, 2019
Hosted by: Yarmouth County Minor Hockey Association
Open to inter-branch teams
********************

Sobeys Cup AAA/AA Tournament,

October 22-24 2021

.
Fundy Highland Female Hockey Association is excited to announce that the Sobeys Cup will be held October 22-24 2021.
The tournament will feature the AAA level of each female division from U13 to U18, as well as U11 AA. Games will take place at the Pictou County Wellness Centre, and the Hector Arena in Pictou.
Link to Sobeys Cup AAA/AA Tournament
1st Annual SEFHA (South East Female Hockey Association) Fall Freeze Hockey Tournament
Moncton, NB at the Superior Propane Center from November 12-14, 2021.
All female tournament and we still have spots available in most divisions.
Registration Link https://events.teamsnap.com/events/15727/register
Mark Boutilier mboutilier@uapinc.com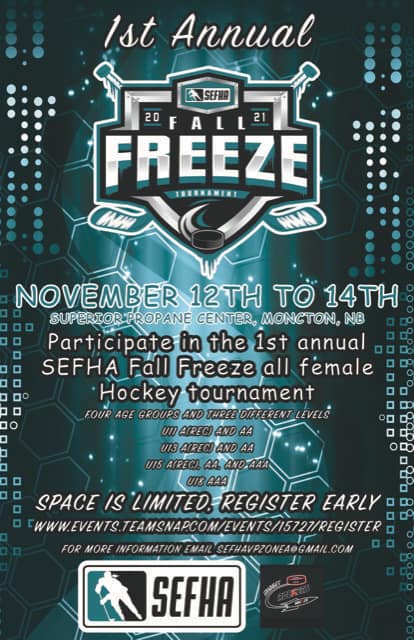 ********************
Subway Cup A Tournament January 3-5th, 2020
Link to Subway Cup A 2020 Tournament
The Subway A Cup will take place at the Pictou County Wellness Centre from Jan. 3-5, 2020. Three hotels are located within five minutes from the arena where all games will be played. The three-day tournament includes round-robin games on Friday and Saturday with championship games on Sunday morning. We have had success in the past with the tournament because teams like that it is one location with accommodations, restaurants, and activities all in one location.
Divisions include Novice, Atom, PeeWee, Bantam and Midget. Three games guaranteed for a fee of $800. The Novice registration fee is less and I will have to get back to you on this price. I have included a registration form that can be filled out and returned to this email address by Dec. 1 however if teams are interested, the sooner the better.
Payments can be transferred to fhfhockey@gmail.com or sent by cheque to Fundy Highland Female Hockey Association, P.O. Box 1684 Stellarton, NS. B0K 1S0.
If you have any questions, please don't hesitate to ask.
Tournament Chair
Subway Cup A
LINK TO TOURNAMENT
********************
KV Jingle Bell Tournament
Last held Dec 6 - 8, 2019 - no new dates known for 2021.
Kennebecasis Valley Minor Hockey Associations 2nd Annual All Female 'Jingle Bell' Tournament, Fri, Dec 6th - Sun, Dec 8th
Please find below, the registration link for our association tournaments, including our 2nd Annual All-Female Jingle Bell Tournament taking place December 6-8th. Divisions include, Novice, Atom A, Peewee A, Peewee AA, Bantam A and Midget A
********************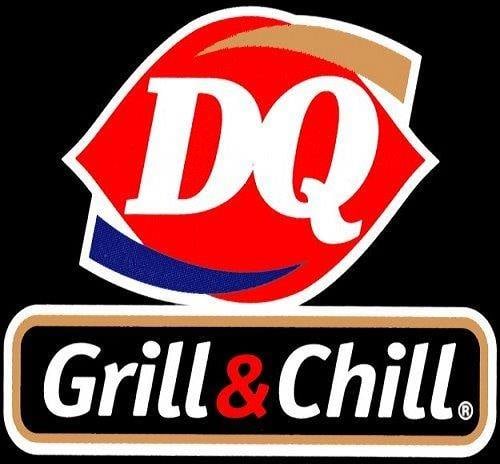 2

0

21 DQ Tournament Registration Form (hopefully coming soon)
Our DQ Female Hockey Tournament will take place on January 6th - January 9th. More details to follow here on and on our DQ Female Hockey Tournament Facebook page. Bring on the Chill!!
LINK to Westmorland-Kent Female Association Facebook page

Please check Game Scores section for official playoff schedule and Game Scores
For tournament game updates and news, follow us on:
********************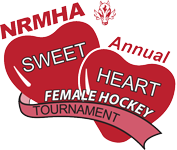 Sweetheart Tournament: North River Minor Hockey Association (PEI)
Tentative Dates Feb 10 - 13, 2022. More Information coming Nov 1, 2021.
LINK TO SWEET HEART WEBSITE updated January 2020

TOURNAMENT RULES 2020

MASTER SCHEDULE (PDF revised Feb 6th)
********************
6th Annual Spring Thaw Female Hockey Tournament
March 19th- March 22nd 2020

Colchester County is pleased to play host to the 6th Annual Spring Thaw Female Hockey Tournament. This is an all-female weekend showcasing teams from 7 different divisions.

A maximum of 28 team entries will be accepted with divisional formats at each level dependent on the number of entries per division. Each team will be guaranteed 3 games with a championship game in each division (no championship game in the Novice Division). This years divisions are as follows : Novice Jamboree Bantam AAtom B Midget AAtom A Midget AAPee Wee A
At this time we can only confirm an Atom B division but if there's enough interest and room in the schedule for other levels, we will add them. Please email registrar if you wish to be updated, should this change.

All games will be 3 X 12 minute Periods. Tournament entry fee is $850/team and $400/team for the Novice Division.

Games will be played primarily at West Colchester United Arena (Debert), with some games at surrounding arenas.

Deadline to register is January 31st, 2020

Please note that your team's spot is not held until the registration fee is received, but please email to add your team to the division list as soon as possible.

To register, please complete the registration form below and e-mail to Rebecca Totten (Tournament registrar) at: springthaw@colchestercyclones.ca
*New this year, we will be accepting e-transfers for registration. Email : fhfhockey@gmail.comPassword : springthaw
Team name must be included in memo/message field

Cheques made payable to CFMHA Spring Thaw Tournament will still be accepted, please send to :

CFMHA Spring Thaw Tournament
C/O Stephen Cameron
Box 1684
Stellarton, NS
B0K1S0
2020 Spring Thaw Registration Form (PDF) 2020 Spring Thaw Registration Form (docx)
GLW 2020
Hello! First of all, in very exciting news, we have secured Maritime Fuels as the Title Sponsor for this year's GLW March Break Tournament. Here are the division commitments for the Maritime Fuels GLW March Break Tournament for 2020: If you haven't yet registered, please do so asap, and please share this with team managers and coaches in your organizations. Registration link is here- https://forms.gle/FXQ7iDLSLiaRTPF26 I have also attached a tournament information form to this email. Atom A- 6 teams committed, can take 2 additional teamsAtom B- 4 teams committed, can take 4Atom C- 7 teams committed can take 1 PW AA- 3 teams committed, NEED 1, can take 5*PW A- 2 teams committed, NEED 2, can take 6PW B- 4 teams committed, can take 4PW C- 6 teams committed, can take 2 Bantam AA- 4 teams committed, can take 4Bantam A- 4 teams committed, can take 4Bantam B- 3 teams committed, NEED 1, can take 5*Bantam C- 2 teams committed, NEED 2, can take 6 Midget A- 5 Teams Committed, can take 3*Midget C- 2 Teams Committed, NEED 2, can take 6 So as you can see, the divisions needing 2 teams at this point are my current focus, those being Peewee A, Bantam C, and Midget C. I am confident we can get all divisions to the 4 team minimum, but I want to lock this down as quickly as possible so iI can move on to other planning stages of getting things ready. Ideally, I would love every division to have 4, 6 or 8 teams for ease of scheduling. My direct contact info is below if you have any questions. Cheers!!

Glenn Carey <glenn.lumberjacks@gmail.com>